uhf.at

Celebrating 44 years of activity on UHF by OE8FNK
The El Burrito Transceiver for 6cm (EB6)
is a really simple 6cm single-band FM/CW transceiver that is also
suitable for DIY, as long as you can handle the SMD assembly.
Updated Apr. 4, 2023


El Burrito 6cm (EB6) is published in DUBUS 1/2023
What do you need for the El Burrito EB6 Transceiver?
So you want to build a EB6 transceiver? First and most important, you need
a radio amateur in your area that you can connect with. The El Burrito EB6
is most usable if you find another amateur within 30km range, This might
work also with reflection. If you have a line-of-sight location available
the distance is no consideration, e.g. 95km is usually noise free in FM
as long as you use a 60cm dish as antenna. So the first thing in this
project is to find a partner. While contest operation is possible, the
usual "big guns" will rarely use FM mode and will not spend much time
on testing, so you need to find a partner station for testing anyway.

1st: One MAX2870 Module, see here on Ebay: MAX 2870 Module
or on Amazon: MAX2870 Module look for "MAX2870 Module"
The correct one is with a 2x5 pin connector, 2.54mm pitch.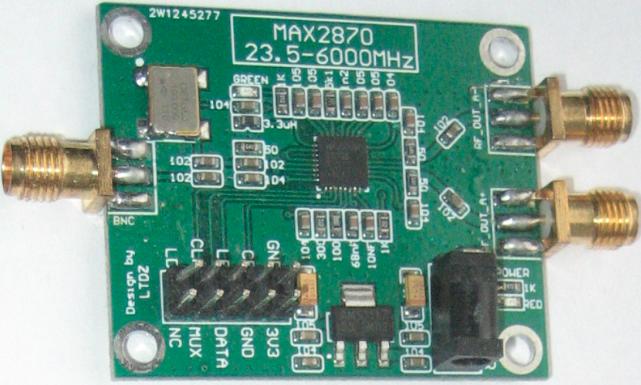 2nd: One ESP32 Wifi Kit:
V2 and V3 works, available on Amazon and Ebay. ESP32 Wifi Kit V3
or look on amazon.com for "ESP32 Wifi Kit V3".
Do NOT take the "Lora" makes.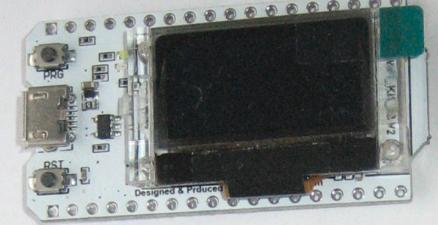 3rd: All PCBs for the El Burrito EB6 Frontend are available at
OE8FNK Project page at pcbway.com
All Gerber files are also available for download at
OE8FNK Project page at pcbway.com
This makes sense if you want to make the PCB and assembly yourself.
Detailed description for ordering the PCB is at the project site.
Currently El Burrito V0, V2, V3 and the Mezzanine PCB should be listed,
but expect a one day delay an upd the Mezzanine PCB should be listed,
but expect a one day delay an update for the review process. Please be
patient.
PCB Revisions:
V2 features one additional SMA Connection from the mixer output to feed
into a seperate RX or SDR.
V3 hat a filter footprint included which was used for RX testing.
Actually a 2nd MMIC for RF amplification was used on the filter footprint.
Photo from the EB6-frontend V3, configured for RX-tesing: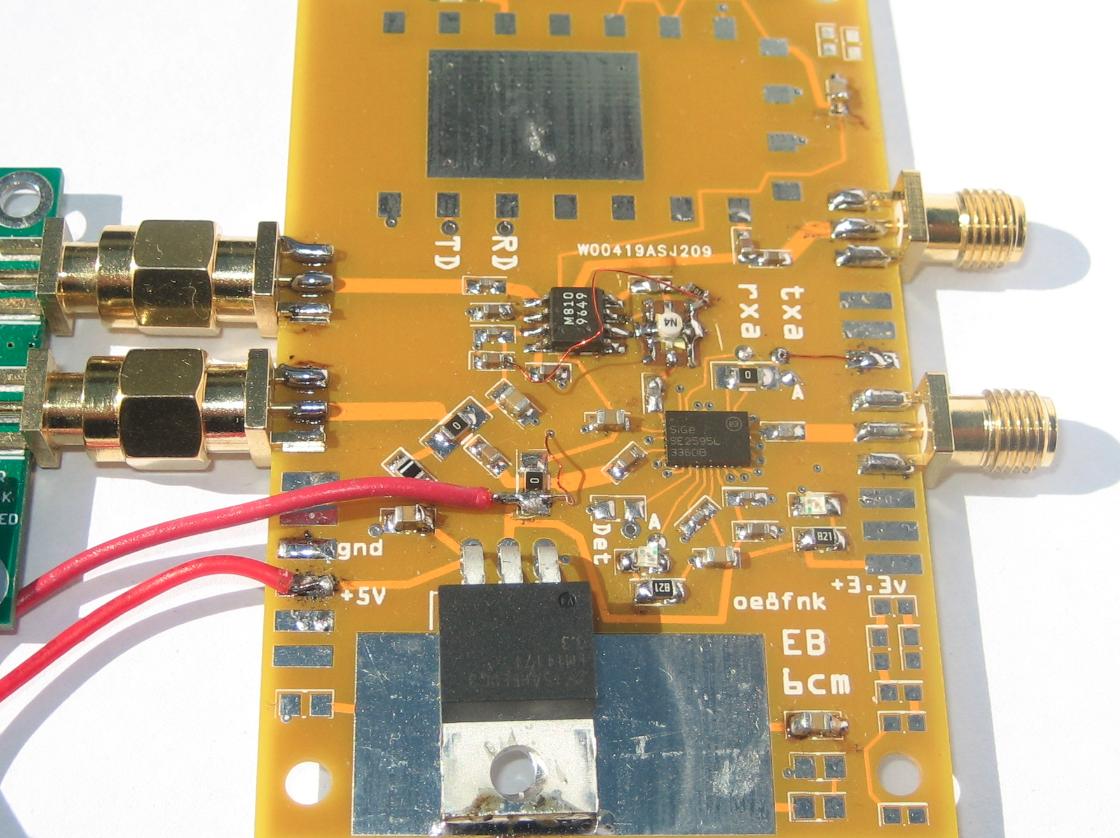 4th:: The DRA818u or SA818u Transceiver Module (only receiver is used):
DRA818u or SA818u are available on ebay.

5th:: More SMD parts:
See assembly plan for rest of the parts. Most SMD parts are 0603 size.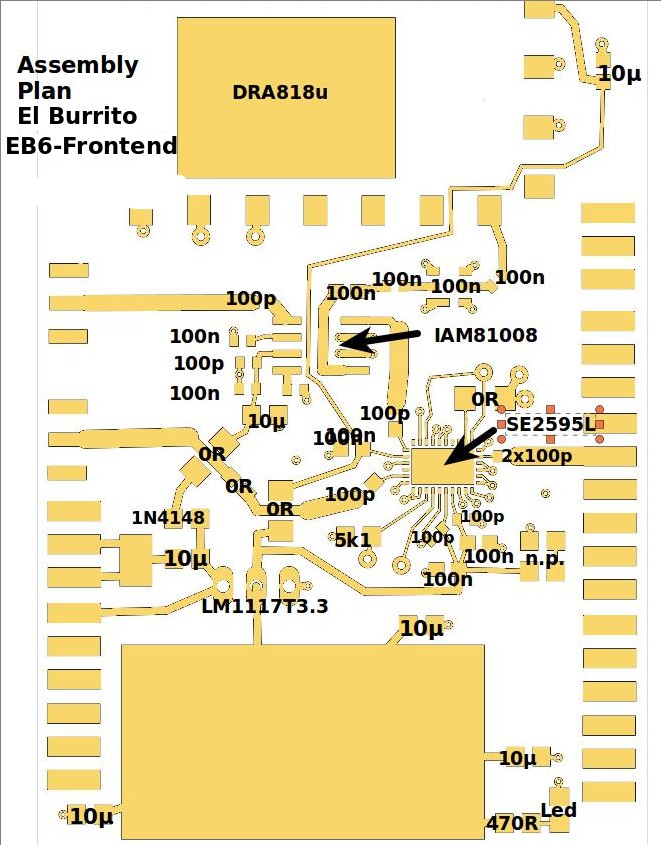 6th: Software: You need the Arduino IDE with the ESP32 and Heltec libraries
installed. This ESP32 sketch for the complete receiver will be released by
end of March 2023, Sketch for testing the modules will be released before
March 15. Stay tuned.

7th: Stay tuned: Send me your email just subject "el burrito" and
I will keep you informed about important new software and new findings.
Email is:




8th:NEW: Collection order: DUBUS 1/2023 will arrive at
all subscribers about end of March, so the deadline is extended to April 17
for a collection order of the
partitially assembled El Burrito EB6 frontend V2. If you are interested,
send me an email, see above. This PCB will include all parts except the
DRA818u, which is easy to solder onto the PCB later. Shipping is only
possible within EU.

9th:NEW: FM Modulation. In order to provide FM modulation, the
small voltage out of the electret microphone is sufficiant for a 3kHz
bandwidth. This is seems small, but matches the DRA818U receiver.
The +3.3V comes from the FM pin of the ESP32.



10th:NEW: Connections. The three modules need to be connected
together. The modules are ESP32, MAX2870 Module and EB6 the El Burrito
frontend. The first 2 modules (ESP32 + MAX2870) are now connected with
a "Mezzanine-PCB", see photo.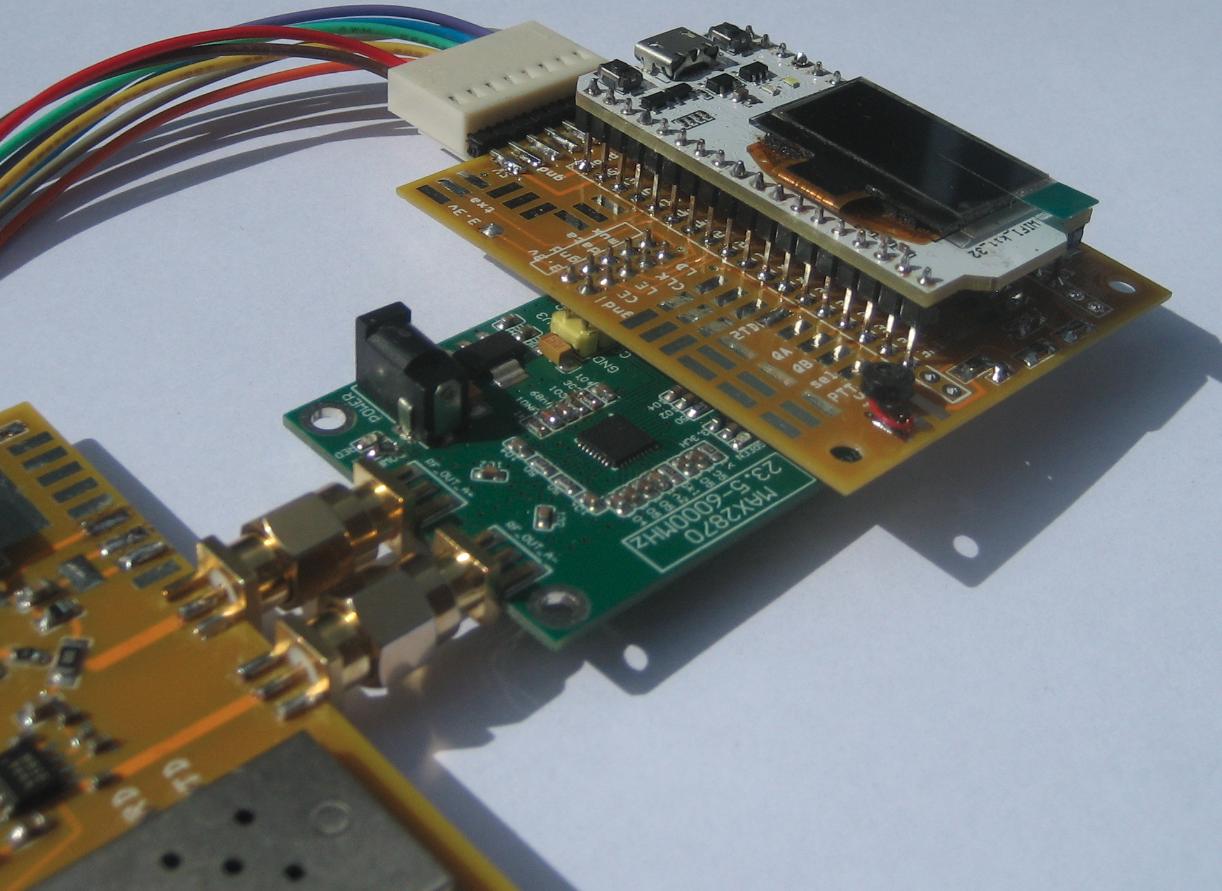 Detailed Pin Description for the El Burrito EB6
6cm transceiver as seen from the ESP32 Wifi Kit 32,
using the "Mezzanine-PCB"
Pin-goes to- description
--------------------------------
26	 CE  	 output, enables MAX2870	
17	 rxa 	 output to EB6, enables TX 	
13	 txa 	 output to EB6, enables RX	
21	 FM  	 output, enab. FM modulation, +3.3V FM	
23	 (1) 	 future use	
2	 det 	 input, from EB6, TX power detector 	
35	 MUX 	 input, MAX2870 MUX	
37	 sel 	 Push Button "select" on the QEI (*)	
39	 QA  	 input, QEI A 	 frequency up (*)
38	 QB  	 input, QEI B 	 frequency down (*)
36	 ptt 	 input, Push to talk (*)	
19	 (2) 	 future use	
22	 (3) 	 future use	
27	 LE  	 output, Latch data to MAX2870	
14	 CLK 	 output, SPI Clock to MAX2870	
12	 data	 output, SPI MOSI to MAX2870	
18	 sdi 	 not used, but belongs to SPI definition	
5	 RD  	 RS232 Txd out to EB6 DRA818u RD 	
34	 TX  	 RS232 Rxd in from EB6 DRA818u TD 	

(*) the 2 capacitors at 36/37 and 38/39 on the ESP32
board must be removed.
11th:MAX2870 testing sketch: to test the connections
between ESP32 and MAX2870 a minimal sketch is available for testing
on GITHUB: github.com/OE8FNK